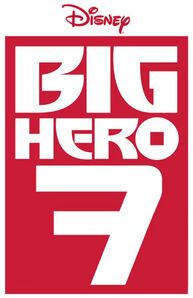 Big Hero 7 is an upcoming American 3D computer-animated superhero comedy film produced by Walt Disney Animation Studios and released by Walt Disney Pictures. It is the sequel to the 2014 film, Big Hero 6. The film is scheduled to be released on November 6, 2020.
Hiro Hamada and his friends (Baymax, GoGo, Wasabi, Fred, and Honey Lemon) set out to save the city of San Fransokyo from a new villain, Sunfire. However, Hiro discovers a terrifying secret about his past in the process.
Voice cast
Edit
Ryan Potter as Hiro Hamada, a 14-year-old robotics prodigy.
Scott Adsit as Baymax, an inflatable robot built by Hiro's late brother, Tadashi Hamada, as a medical assistant. 
TBA as Sunfire, a temperamental and arrogant mutant who can generate superheated plasma and fly. 
T. J. Miller as Fred, a comic-book fan who also plays the mascot at San Fransokyo Institute of Technology.
Jamie Chung as GoGo, a tough, athletic student who specializes in electromagnetics.
Damon Wayans, Jr. as Wasabi, a smart, slightly neurotic youth who specializes in lasers.
Génesis Rodríguez as Honey Lemon, a chemistry enthusiast at San Fransokyo Institute of Technology. 
Alan Tudyk as a, a pioneer entrepreneur, tech guru, and the CEO of Krei Tech.
Maya Rudolph as Aunt Cass, Hiro's aunt and legal guardian.
Stan Lee as Fred's father.
Production
Edit
On February 18, 2015, the film's directors, Don Hall and Chris Williams, said a sequel was possible, and that they were interested, but that it was too soon to make that decision. However, Hall added, "Having said that, of course, we love these characters, and the thought of working with them again some day definitely has its appeal." In March 2015, Génesis Rodríguez told MTV that a sequel was being considered, saying, "...There's nothing definitive. There's talks of something happening. We just don't know what yet." In April 2015, Stan Lee mentioned a projected sequel as one of several that he understood were in Marvel's plans for upcoming films. Henry Jackman will return to compose the film's score.
Big Hero 7 is scheduled for theatrical release on November 6, 2020.
Ad blocker interference detected!
Wikia is a free-to-use site that makes money from advertising. We have a modified experience for viewers using ad blockers

Wikia is not accessible if you've made further modifications. Remove the custom ad blocker rule(s) and the page will load as expected.