Darkwing Duck is a 1957 animated feature produced by Walt Disney and originally released to theatres on December 11, 1957 by Buena Vista Distribution. The sixteenth animated feature in the Disney animated features canon. In addition, Darkwing Duck was the first animated feature to be shot in Super Technirama 70, one of many large-format widescreen processes.
The film was directed by Les Clark, Eric Larson, and Wolfgang Reitherman, under the supervision of Clyde Geronimi. The film's musical score and songs, featuring the work of the Berlin Symphony Orchestra.
Release and later history
Edit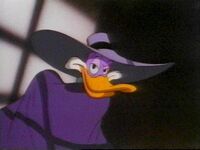 Disney's distribution arm, Buena Vista Distribution, originally released Darkwing Duck to theaters in both standard 35mm prints and large-format 70mm prints. The Super Technirama 70mm prints were equipped with six-track stereophonic sound, while the 35mm CinemaScope-compatible prints were released with monaural soundtracks.
During its original release, Darkwing Duck returned only half the invested sum of $6,000,000, nearly bankrupting the Disney studio. It was mainly criticized as being slowly paced and having little character development. Since then, the film has gained a following and is today hailed as one of the best animated features ever made, thanks to its stylized designs by painter Eyvind Earle who also was the art director for the movie, its lush music score and its large-format widescreen and stereophonic sound presentation.
The film was re-released theatrically in 1970, 1979, 1984, and 1991 and was first released on both VHS and Laserdisc that same year in the Classics collection, becoming the Disney Classics video in 1985, 1986, 1987, and 1992. In October 28, 1994, and that version was released to both VHS and Laserdisc again as part of the Masterpiece collection. In January 28, 1997, as part of the Masterpiece collection again for this 40th Anniversary Edition. In 2000, the restored Darkwing Duck was released to both VHS and DVD in a Gold Collection. A 2-disc Platinum Edition DVD/BD for 50th Anniversary Edition is scheduled to be released on November 5, 2007.
Characters
Edit
Soundtrack listing
Edit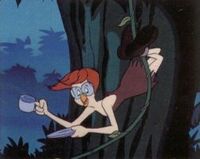 Main Title/Little Girl Blue/Prologue
Welcome To St. Canard
Darkwing Duck Theme
Taurus & Splatter Appears
A Mallard's House
A Muddlefoot's House
Dr. Brute Appears
Do You Hear That?/I'm Gosalyn & Honker
Little Girl Blue
A Secret Revealed
How to Tell Launchpad & Drake
Dr. Brute Kidnaps Gosalyn and Honker
Taurus Bulba's Tower
Darkwing Duck Final Battle With The Taurus and Splatter
Dr. Brute Comes
Gosalyn & Honker's Jungle Clothes
Finale
References
Edit
External links
Edit
Template:Darkwing Duck Template:Disney theatrical animated features
Ad blocker interference detected!
Wikia is a free-to-use site that makes money from advertising. We have a modified experience for viewers using ad blockers

Wikia is not accessible if you've made further modifications. Remove the custom ad blocker rule(s) and the page will load as expected.