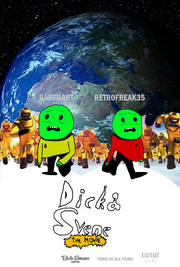 Dick & Svene: The Movie is a upcoming independent adult computer-animated comedy film based on the web series Dick & Svene by Poli Wall. This marks the second animated film based on a Poli Wall adaptation, the first was The Puppets Movie.
Five years after the series, catapult movie goers to planet Bwaahh where admired astronaut Dick is a national hero to the green alien population. A master of daring rescues, Dick pulls off astonishing feats with the quiet aid of his nerdy, by-the-rules brother, Svene, head of mission control at BASA. When BASA's no-nonsense chief Horse (BarfBart) informs the brothers of an SOS from a notoriously dangerous planet, Dick rejects Svene's warnings and bounds off for yet another exciting mission. But when Dick finds himself caught in a fiendish trap set by the evil Gandofini (RetroFreak35), it's up to scrawny, risk-adverse Svene to do the real rescuing. As the interplanetary stakes rise to new heights, Svene is left to save his brother, his planet, his beloved friend Horse (BarfBart) and their adventure hungry son Bob.
BarfBart as Dick, Horse, Flesh, & Hank
RetroFreak35 as Svene, Bob, General Gunnery Gandofini, & Simon
Production
Edit
The film adaptation was in development at Third of All Films at least since August 31, 2015. BarfBart was reported on August 28, 2015 to be the only original Dick & Svene voice actor not interested in Dick & Svene: The Movie, as he disliked the upcoming film. BarfBart will not reprise his role as Dick in the movie. The character General Gandofini was meant to resemble actor, James Gandofini. , RetroFreak35 announced that Dick & Svene: The Movie will be CGI instead of Flash. However, he has now on to make the movie now that it will be CGI.