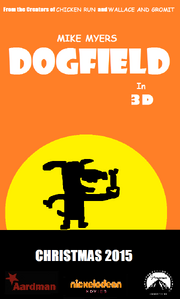 Dogfield is a 2015 British/American 3D stop-motion animated musical comedy film produced by Aardman Animations in partnership with Sony Pictures Animation. It was directed by Peter Lord. The film was distributed by Columbia Pictures and was released into theaters on November 13, 2015.
John Goodman as Tom B. Dog
Musical numbers
Edit
Production
Edit
In other languages
Edit
Brazil: Um Dia de Cachorro ("A Dog Day")
Ad blocker interference detected!
Wikia is a free-to-use site that makes money from advertising. We have a modified experience for viewers using ad blockers

Wikia is not accessible if you've made further modifications. Remove the custom ad blocker rule(s) and the page will load as expected.