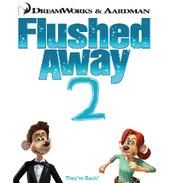 Flushed Away 2 is a 2019 computer animated sequel film that is the sequel to DreamWorks and Aardman's hit 1995 film Flushed Away.
Sorry, but I'm a jerk that had to erase all information from this storyline. Unfortunately, it carried sensitive information of the government, in which we had to prevent. So if you were wishing for a interesting plot then too bad. Please feel free to ask our email at fgghornhoggovermentplacement@gmail.com to send in any question about this inconvenience. Please help me the FBI is after me
Question from Nimitz: You are kidding right?
Hugh Jackman as Roddy
Kate Winslet as Rita
Liam Neeson as Two Beard
Eddie Murphy as Lebron james
Shane Richie as Sid
Hank Azaria as Pussy
Tom Jones as Himself
Andy Serkis as spike
Bill Nighty as Whitey
Ian Mckellen as the toad
Jean Reno as Le Frog
Production
Edit
The film was announced in 2016, ten years after the release of the first film. The cast has been announced as of November 2016. The returning members are: Hugh Jackman, Kate Winslet and Shane Richie. Also announced was the synopsis. Paramount Pictures will distribute the film like they did on the previous film.
In the original story, Roddy and Rita were to return up top and get lost in Paris, and The Toad would be pardoned from prison for revenge on them.
Two Beard's voice sounds exactly like Davy Jones from Pirates Of The Caribbean.
music: life in the sewer by owl city ft Jessie j, what a wonderful world by Louis Armstrong
and the opening scene for this adorable character with Baby Rita
MPAA PG: for slapstick action, mild crude and suggestive humor and some british language
Ad blocker interference detected!
Wikia is a free-to-use site that makes money from advertising. We have a modified experience for viewers using ad blockers

Wikia is not accessible if you've made further modifications. Remove the custom ad blocker rule(s) and the page will load as expected.