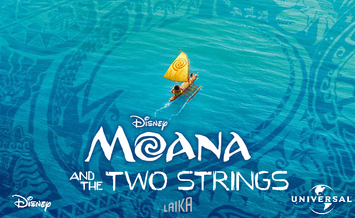 Moana and the Two Strings is an upcoming 2020 American 3D stop-motion fantasy action-comedy adventure film, produced by DisneyToon Studios and set to be released by Walt Disney Pictures and Universal Pictures. The film is a sequel/spin-off of the 2016 animated Disney film, Moana, while also crossing over with the 2016 Laika film, Kubo and the Two Strings. Auli'i Cravalho, Dwayne Johnson, and Art Parkinson are set reprise their respective roles as Moana Waialiki, Maui, and Kubo.
The film is scheduled to be released on August 7, 2020.
The island of Motunui is in trouble when new settlers come in to take over the entire village. Moana, who is now the chief of the island, has her prayers answered when a magic guitar washes up on the shores of her island. She is told by ancient spirits and her grandmother, Tala, that she must go out and find a warrior named Kubo, who will help fight against the new people. Now Moana, along with demigod Maui, set out on a journey across the ocean to Japan to find Kubo and save the island.
Voice cast
Edit
Auli'i Cravalho as Moana Waialiki
Dwayne Johnson as Maui
Alan Tudyk as Hehei
Art Parkinson as Kubo
Rachel House as Gramma Tala Waialiki
Production
Edit
Originally set to be a fourth Big Hero 6 vs. the Forces of Evil film, Moana and the Two Strings will be the first stop motion animated film to be produced at DisneyToon Studios.
Henry Jackman will compose the score for the film.
The film is scheduled for theatrical release on August 7, 2020. A teaser trailer will be released alongside Big Hero 6 vs. the Forces of Evil: Forever Heroes in theaters.