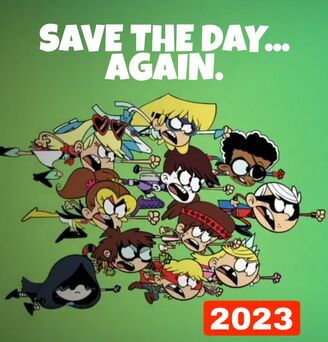 Super Louds 11: Defenders of Avalor is an upcoming 2023 American animated superhero action comedy film. It is the seventh installment of the Big Hero 6 vs. the Forces of Evil franchise and the sequel to Super Louds 11 as it continues Lincoln and his sisters' adventures of being a team of superheroes. The film is set to premiere on Nickelodeon on June 2, 2023.
One month after the events of Forever Heroes, Lincoln Loud, now on summer break, is getting ready to spend the day with Ronnie Anne, who has come to town to visit. Before he can do so, Lincoln, all ten of his sisters, and Clyde McBride receives a message from the Kingdom of Avalor. They are all invited for a special celebration to honor them for saving Princess Elena from Flute Guy and his henchmen. One week later, an interdimensional limousine arrives in front of the Loud house to pick up the children to go to Avalor. After the kids say goodbye to their parents, they all take off in the limo to Avalor.
Moments later, the kids arrive in Avalor, where they are greeted by the people. They then arrive in front of Avalor Palace, where they are escorted inside by Gabe and the royal guards to meet Elena and the Grand Council. As the council greets the kids, Lincoln reunites with Isabel, making Ronnie Anne feel somewhat jealous. Elena informs the kids about a festival they are about throw for them in their honor in the evening. The kids, excited, looks forward to the event.
Later at night, everyone in Avalor gathers around at the party in front of the palace. Lori and Leni meets Naomi and Mateo and becomes friends while Luna strikes up the band. While everyone else is occupied at the party, Isabel takes Lincoln inside the palace. Inside, they walk around, play games, pretend to be king and queen, and talks about their interests until they find something interesting. They find an old book that features a masked girl who once defended her kingdom from the forces of evil.
To be continued...
Voice cast
Edit
Collin Dean as Lincoln Loud
Catherine Taber as Lori Loud
Liliana Mumy as Leni Loud
Nika Futterman as Luna Loud
Cristina Pucelli as Luan Loud
Jessica DiCicco as Lynn Loud Jr., and Lucy Loud
Grey Griffin as Lana Loud, Lola Loud, Lily Loud, and Queen Butterfly
Lara Jill Miller as Lisa Loud
Caleel Harris as Clyde McBride
Aimee Carrero as Princess Elena
Jenna Ortega as Isabel
Breanna Yde as Ronnie Anne Santiago
Peter Dinklage as Lord Diablodor
Eric Bauza as Hector
Emiliano Díez as Francisco
Julia Vera as Luisa 
Jillian Rose Reed as Naomi
Joseph Haro as Mateo
Carlos Alazraqui as Skylar
Jorge Diaz as Gabe
Christian Lanz as Chancellor Esteban
Joe Nunez as Armando
Eden Sher as Star Butterfly
Ryan Potter as Hiro Hamada
Zosia Mamet as Hekapoo
Kevin Michael Richardson as Rhombulus
Carl Weathers as Omnitraxus Prime
Brian Stepanek as Lynn Loud, Sr.
Jill Talley as Rita Loud
Michael McDonald and Wayne Brady as Howard and Harold McBride
Production
Edit
Nickelodeon greenlit the sequel shortly after the release of the first film. After their contract expired, Disney and Nickelodeon renewed it in order to work on the film and other projects.
Super Louds 11: Defenders of Avalor is set to premiere on Nickelodeon June 2, 2023. The film will feature an original song, "Mi Gente", by J. Balvin and Willy William.
Sequel and spin-off
Edit
Main article: Super Louds 11: The Incredible Louds
A sequel, featuring characters from the Disney/Pixar film The Incredibles, is set to premiere on Nickelodeon on May 31, 2024.
Main article: Eight of Spades: Dark Magic
A spin-off film focusing on Lucy Loud going undercover at a witch school is set to premiere on Nickelodeon on October 27, 2023.
Ad blocker interference detected!
Wikia is a free-to-use site that makes money from advertising. We have a modified experience for viewers using ad blockers

Wikia is not accessible if you've made further modifications. Remove the custom ad blocker rule(s) and the page will load as expected.