Cast
David Thewlis, Natalia Tena, Bill Nighy, Bill Hader, Ralph Fiennes
Studio
FOX 2000 Pictures, Icon Productions, Heyday Films, Walden Media, GK Films, Infinitum Nihil
Country
United States, United Kingdom, France, Germany, Belgium, Netherlands, Japan
Language
English, French, German, Dutch, Japanese
Rating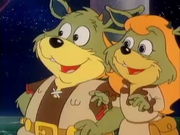 The Dreamstone is an upcoming American/British/French/Dutch/German/Belgian/Japanese Theatrical-release 3D Live-action Family Fantasy-Adventure film based on Fan-Favorited 1990 Cartoon Series "The Dreamstone"
it was Co-produced by Icon Productions, Heyday Films, Walden Media, GK Films, Infinitum Nihil and Fox 2000 Pictures, also distributed worldwide by 20th Century Fox.
this film will bring back "The Dreamstone", which rises into a New CGI Sequel Reboot.
Soundtrack
Edit
"Better Than a Dream" by Katie Melua
Trailer Song
Edit
First Trailer - "Do or Die" by 30 Seconds to Mars
Second Trailer - "New Life" (Sun) by Thomas Bergersen (Two-Steps from Hell)
Ad blocker interference detected!
Wikia is a free-to-use site that makes money from advertising. We have a modified experience for viewers using ad blockers

Wikia is not accessible if you've made further modifications. Remove the custom ad blocker rule(s) and the page will load as expected.